Karralika Programs Consumer Advisory Body
Statement of Intent:
"The purpose of this Consumer Advisory Body is to work collaboratively and respectfully, supporting and enhancing inclusive approaches to service provision for both current and future users of Karralika Programs and their families, through the provision of advice to the Karralika Programs Board and Executive. It is the intention of the Consumer Advisory Body to draw from the lived experience of its members to gain diverse perspectives and understanding, thereby complementing, enriching, and adding real value to Karralika Programs."
Call for members:
We are currently looking for people who have been a previous Karralika Programs service user (Residential, Counselling, Solaris), or a family member of a previous service user. They must have an interest in supporting Karralika Programs to provide representation and advice to the Executive Team, these are paid voluntary positions.
We would also like diversity to be represented within the Body  – Aboriginal and Torres Strait Islander, LGBTIQ, Culturally and Linguistically Diverse and people who have experienced adverse circumstances such as homelessness, domestic family violence, mental health issues, incarceration, or involvement with the Justice system.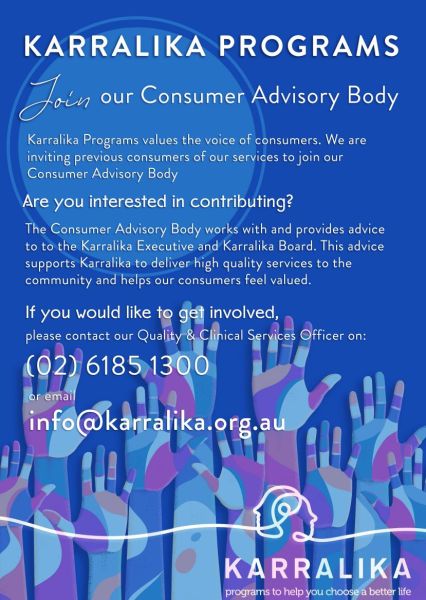 Do you need help?
Every journey begins with the first step. We have fully trained staff ready to speak to you about your dependence or about someone you may care for.