About Program
The Solaris Therapeutic Community is operated in partnership with ACT Corrective Services.
Solaris is a voluntary treatment program for adult males in the Alexander Maconochie Centre (AMC) who have alcohol and/or other drug dependence issues.
Solaris aims to provide a safe and supportive learning environment where participants can explore their emotions, beliefs and behaviours to affect positive personal change.
Participants are involved in educational and therapeutic groups, supported with strategies to recognise and reduce harms, prevent relapse and understand the links between their criminal activity and drug use.
We recognise the high-risk period immediately post release from incarceration and as such, the Solaris Outreach program was developed to support our participants to continue their recovery journey and minimise this risk.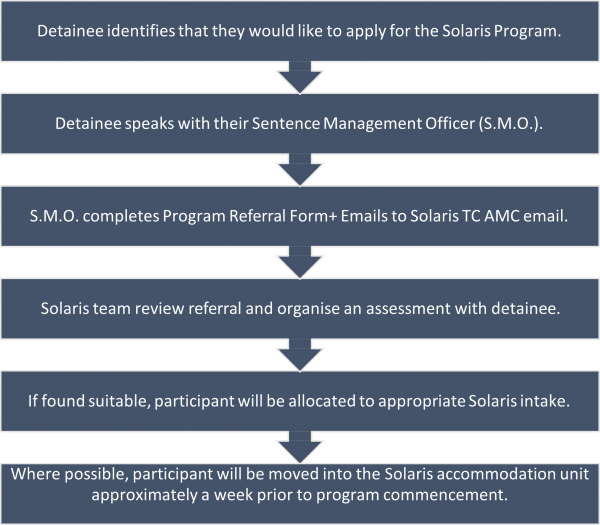 What program offers:
The Solaris program is comprehensive and challenging and provides:
Comprehensive assessment to identify needs and develop a personal treatment plan.
Regular one-on-one case management to identify and address treatment issues;
Readiness phase which involves preparation for treatment and provides education and information on the principles and practices of treatment and recovery.
The treatment stage in which participants can identify and explore personal treatment issues and introduces tools, strategies and skills to support behaviour change and improve wellbeing.
A graduate phase focusing on strengthening and applying the tools and knowledge learned in treatment, while reflecting on what has been learn and what goals and options are available to them moving forward.
Solaris Outreach support is available for up to 6 months for all who have completed Solaris whether they remain in the AMC, are housed in the Transitional Release Centre or are exited from detention.
Program Staff available to residents:
Activities residents participate in:
Creative therapies including cartooning,

DRUMBEAT

and art based therapies;
Literacy programs;
Hepatitis awareness program;
Legal literacy;
Cultural support programs;
Peer support;
Recreational activities;
Life skills activities;
Health and wellbeing programs;
…and more.
External Services clients can be linked with:
Eligibility and Referral
A detainee identifies their interest in participating in the Solaris program with Sentence Management Officer, who then fills out the required referral form.
Referrals are then processed by Solaris staff.
Solaris management then visits and speaks with referred detainee to gauge interest and suitability for program.
If found, Solaris management then inform referred detainee and Sentence Management Officer an organise for movement of detainee into the Solaris accommodation unit.
If not found suitable, referred detainee and Sentence Management Officer are informed.
Detainees with a history of sex related offences are not eligible for the Solaris program.
Detainees on stable pharmacotherapies (e.g. Methadone or Buvidal) are eligible to access the program.
Do you need help?
Every journey begins with the first step. We have fully trained staff ready to speak to you about your dependence or about someone you may care for.